7D6N Bhutan Treasures ~ Land of the Thunder Dragon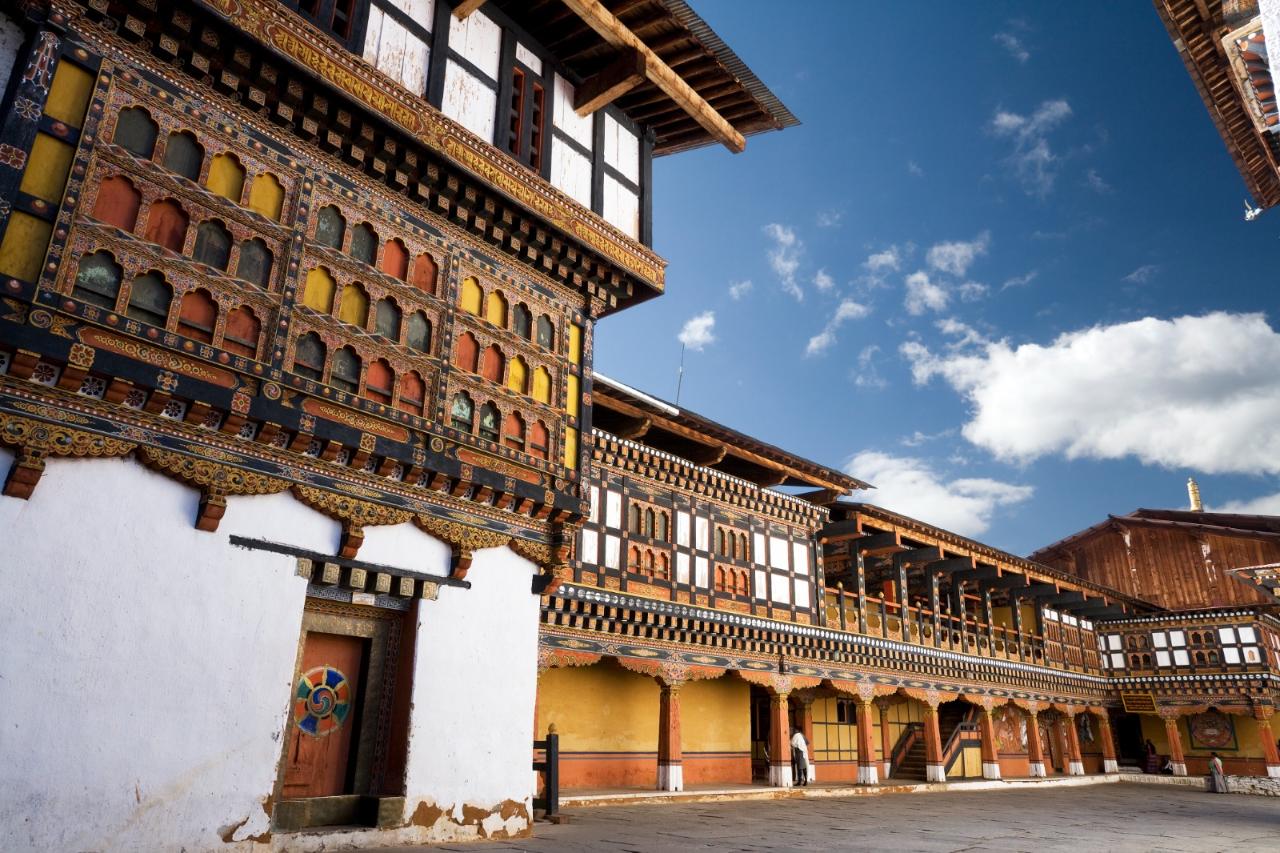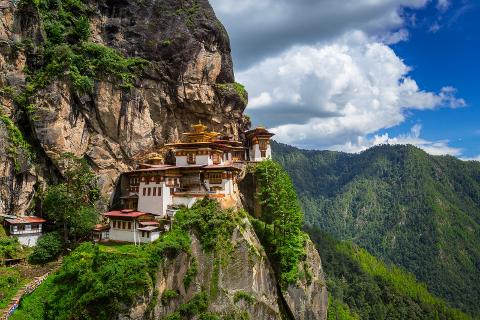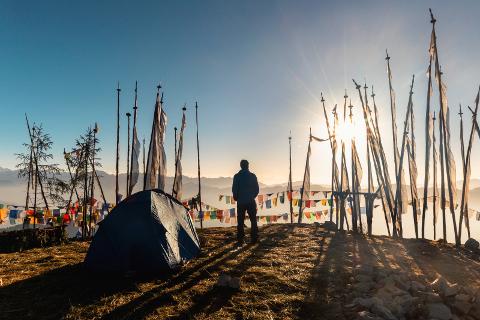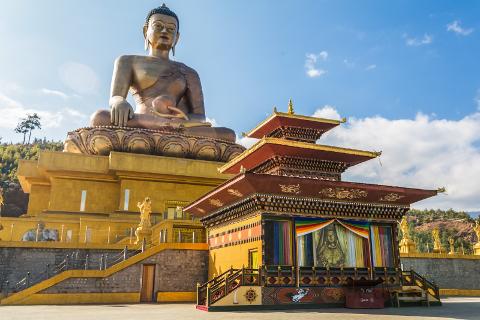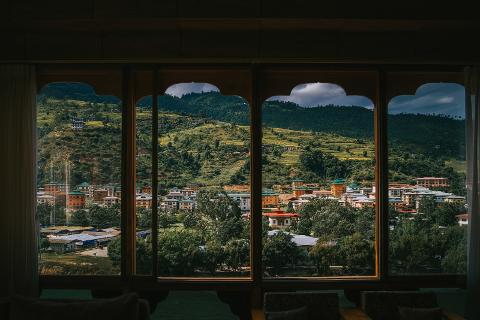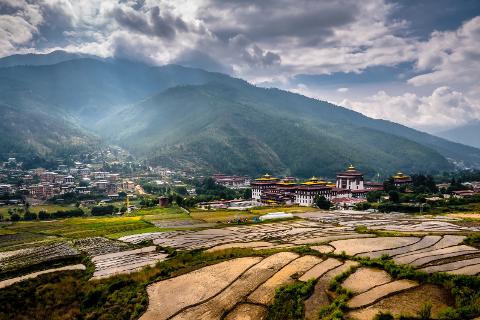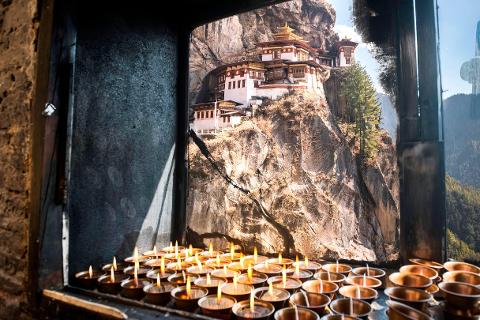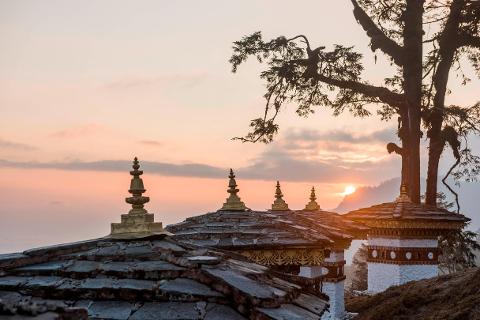 Duration: 6 Days (approx.)
Location: Bhutan
Product code: 6NBHUTRE
7D6N Bhutan Treasures
The Kingdom of Bhutan is a tranquil country where you can explore the ancient cultures, beautiful landscapes and magnificent architecture. Bhutan, called Druk Yul by its people, is known as the "Land of the Thunder Dragon". It is one of the world's most beautiful, yet mysterious places and located in the southern foothills of the the Himalayan Mountain Range.
Inclusions :
• Daily accommodation at the recommended hotels

• Full Board inclusive (breakfast at hotel / lunch at a local restaurant / dinner at the hotel)
• Usage of a private air-conditioned vehicle
• Services of an English Speaking Guide
• All transfer and sightseeing as per the itinerary including admission fees
• SIM Card (2GB) up to 7 days validity
• Mineral water per day per person
• Complimentary use of Bhutan traditional costume (Gho & Kira) during the trip
• Sustainable Development Fee (SDF)
• VISA*
• Khadar Welcome
• Completion of Paro Takstang Certification
Exclusions
·Flight tickets and airport taxes
·Travel / Covid Insurance
·Tipping for guide and driver
·Personal expenses such as international call charges,minibar, laundry
·Any other items that is not mentioned in the inclusions above
VISA Application process and information
· Please note VISA application processing time is approximately 7 working days. Please submit the following
documents at time of booking:
o A clear photocopy of your passport
o Passport Size Photo
o Travel insurance
·VISA application approval is at the discretion of the authorized authority. Please ensure documents it is a clear copy of the original to avoid delay in application.
----------------------------------------------------------------------------------------------------------------------------------
Add on Air Fare : ( Flight Schedule for the some fixed departure dates )
Twice Weekly -
Depart every Thursday and Sunday. KB541 / 1230 / 1645 hrs
Return
every Wednesday and Saturday KB540 / 0805 / 1610 hrs
Y Class from SGD 1,688.00 per person including taxes
J Class from SGD 2,818.00 per person including taxes

-----------------------------------------------------------------------------------------------------------------------------------
Travel Itinerary ( Sequence subject to chnage ) :
Day 1
Kuzuzangpo La – a warm welcome from The Land of Thunder Dragron – Bhutan known as The Last Shangri La.
On your arrival, you will be greeted by our professional Tour Manager in a Khadar Welcome. It will be an easy day today so we can acclimatized to the attitude (2334m) on arrival at Paro International airport. We will then take a leisure drive to Thimphu and visit the Clock Tower. After that, we shall check-in at the hotel and dinner in the hotel and rest for the evening.
Stay : Bhutan Peaceful Residency & Spa or Druk Hotel or similar category (4 star)
Meals : Dinner
Day 2 Thimphu Tour

Enjoy your breakfast in the hotel. After a sumptuous breakfast, let's start the day at BBS Tower and it is also known as Sangayang Bhutan Broadcasting Service (BBS) and it runs the radio and television network of the country with a telecommunication tower built on the hilltop. It is located at 2685m and offers the view of entire Thimphu Valley. Visit Takin Enclosure, located in the Motithang district of Thimphu, Bhutan is a wildlife reserve area for Takin, the national animal of Bhutan. Originally a mini-zoo, it was converted into a preserve when it was discovered that the animals refrained from inhabiting the surrounding forest even when set free After that, we will visit the National Memorial Chorten, another unique structure as the Stupa is predominantly white with spires of gold and bells. This is a landwhere where one cannot miss it in Thimphu City. This was first built in 1974 and to honour the 3rd Druk Gyalpo, Jigme Dorji Wangchuck. Next, visit Buddha Point and known as Buddha Dordenma Statue, this the largest sitting statue Buddha in Bhutan and is located at one of the mountains in Thimphu known as Kunzangphodrang. The statue was made celebrating the 60th anniversary of the fourth King Jigme Singye Wangchuck while fulfilling two ancient prophecies from the 8th and 12th century which stated that a giant Buddha statue would be built in the region to bless the world with peace and happiness. Let's enjoy our lunch at Simply Bhutan is a place where you learn about the various aspect of traditional life in Bhutan as the museum resemble a Bhutanese village, featuring traditional cuisine, demonstrations and performances and hands-on activities such as the National Game – Archery. Almost all representation in Bhutanese art, music and dance has its roots in Buddhism, the development of arts and crafts in Bhutan can be traced back to the 15th Century by Pema Lingpa who was an accomplished painter, metalworker, sculptor and architect. In 1680, the Fourth Desi Gyalse Tezin Rabgye opened the school of Bhutanese Arts & Crafts and presently known as National Institute of Zorig Chusum to further boost the country's unique artistic tradition. Take a short walk through Thimphu Vegetable Market where you will find local produce such as Yak Cheese. Tashichho Dzong, is popularly known as Thimphu Dzong or "Fortress of the glorious religion" is an impressive structure that houses the Bhutanese government and stand on the right hand side of the Wangchu River. End the day with a dinner in your hotel
Stay : Bhutan Peaceful Residency & Spa or Druk Hotel or similar category (X star)
Meals : Breakfast / Lunch / Dinner
DAY 3 – Punakha (Day Tour)
Enjoy your breakfast in the hotel restaurant.
We will start to take a scenic drive from Thimphu to Punakha (driving distance is about 2 hours) via Dochula Pass. Dochula Pass is a beautiful mountain pass located between Thimphu and Punakha in Bhutan. This is a historical landmark and was built to honour the bravery and sacrifices of the Fourth King and the soldiers who perished during the battle against Assamese insurgents in 2003. The King returned to Thimphu in victory on 28 December 2003 and the eldest Queen Mother Ashi Dorgi Wangmo Wangchuk built the 108 memorial chortens known as "Druk Wangyal Chortens" to commemorate the soldiers. On clear days, you may be able to spot Jomolhari or known as Chomolhari.
Arrival at Punakha, we will visit Chimi Lhakhang (also commonly known as The Fertility Temple) is a popular Buddhist monastery in Bhutan and is located near Sopsokha Village in the Punakha District of Bhutan and we will take leisure stroll through the beautiful rice and mustard fields to the monastery. It was built over half a millennium ago and this is one of the oldest monasteries in Bhutan.
It is a famous temple where it had drawn many local and overseas couples seeking blessing to conceive. In the temple, you will see a album from those who successfully conceived and sharing their bundle of joy photos. After that, we will have lunch in the local restaurant near to the rice field. Along the way to the lunch venue we will see many interesting shops. With the beautiful rice field as our backdrop, we will get to enjoy our lunch while overlooking the rice field. After that, we will visit Punakha Dzong which is built in 1637 by the founder of Bhutanese State, Zhabdrung Ngawang Namgyel. This is the second largest, oldest and the most beautiful Dzong in Bhutan. It sits at the confluence of the Pho Chhu (father) and Mo Chhu (mother) rivers in the Punakha–Wangdue valley.
Next, Punakha Suspension Bridge is the longest suspension bridge in Bhutan measuring 180m in length. From the bridge, you can get a spectacular view of the Po Chhu river (male river) and the valley. It's an ideal place for a photoshoot with a stunning background. You will definitely enjoy the cool and breezy vibes from the suspension bridge. We will take a scenic drive back to Thimphu. End the day with a dinner in your hotel.
Stay : Bhutan Peaceful Residency & Spa or Druk Hotel or similar category (xstar)
Meals : Breakfast / Lunch / Dinner
Day 4 – Thimphu to Paro
Enjoy your breakfast in the hotel restaurant. After a sumptuous breakfast, we will check out and take a scenic drive from Thimphu to Paro. We will pass by Paro Valley and do look out for Jomolhari and is known as "The Bride of Kangchenjunga", is a mountain in the Himalayas stradding the border of China, Tibet and Paro district of Bhutan and be awed by the majesty view of the mountain peak on a sunny day. We will visit Kyichu Lhakhang which is located in the north of Paro Town and this is the oldest temples in Bhutan. As one walks toward Kyichu Lhakhang, the environment is quiet and serene. The ancient monastery is a fantastic place where you will find elderly pilgrims circumambulating around the temple as they spin the prayer wheels and experience Butter Lamp Offering (own expenses).
This temple is considered as the scared Jewel of Bhutan and there are two magical orange trees outside the templec that bears fruit throughout the year. We will pay a local farmhouse visit and enjoyed a home cooked Bhutanese cuisine for lunch and pair with a glass of ZumZin Peach Wine. After lunch, we will do a short hike up to Ta Dzong perched above which is the oldest watch fortress in Bhutan and perched above Rinpung Dzong (Paro Dzong) to protect it from the assaults.
Followed by Paro Dzong which is the administrative seat of the district of Paro. The Dzong was built in 1644 under the order of Zhabdrung Ngawang Namgay and only 15 minutes away from Paro Town. You can see this impressive Dzong as you are landing in Paro Airport. During the night, you can see Dzong beautifully lit up.

Next, Paro Town a small and beautiful town where you will see shophouses carved in Bhutanese carvings and the structure of an authentic Bhutanese house. You will find locally made handcrafts along the shops, cafes and some eateries. We will spend some time at Paro Town, you may want to do some shopping for some souvenirs. We will check-in at the hotel and end the day with a dinner. Rest for the day.
Stay : Tashi Namgay Resort or Resort Thim-Dorji @ Paro Riverfront or similar category (4 star)
Meals : Breakfast / Lunch / Dinner
Day 5 – HAA Valley via Chelela Pass
Enjoy your breakfast in the hotel restaurant.
After a sumptuous breakfast, enjoy a scenic drive from Paro to Chelela Pass at 3988m high . This is the highest motor able pass in Bhutan and is between Paro and HAA Valley. HAA Valley, off beaten track but you will be rewarded by the astounding scenery and the beautiful cycling and walking tracks are found here. We will take drive to HAA Valley and have lunch - We will head for lunch and enjoy the authenic Hoentay, HAA Valley Dumpling. After lunch, let's visit the two most important temples in the Kingdom, the Lhakhang Karpo (The White Temple) and Lhakhang Nagpo (The Black Temple). The Lhakhang Karpo and Lhakhang Nagpo are two of the 108 monasteries built by SongtsenGampo, a Tibetan king in the 7th century. These temples are the guardians of the people of Haa Valley; they watch over them. The Tibetan king SongtsenGampo, when building the temples, is said to have released two doves from his consciousness, a black and a white one, to choose the perfect site to erect the temples in Haa Valley. At the time, King SongtsenGampo was on a mission to build 108 monasteries in one day. After that, we will take a scenic drive back to Paro and end the day with a dinner in your hotel.
Stay : Tashi Namgay Resort or Resort Thim-Dorji @ Paro Riverfront or similar category (4 star)
Meals : Breakfast / Lunch / Dinner
DAY 6 – Paro
Enjoy your breakfast in the hotel.
After a sumptuous breakfast, let's begin the highlight of our trip. A trek up to Taktsang (Tiger's Nest) Lhakhang. Your trip is seen not complete if we miss the Tiger's Nest. At 6.30am, we will pick you up for the hike up Paro Taktsang or commonly known as Tiger's Nest. It is scared Buddhist site located in the cliffside of the upper Paro Valley and in 1692 a later monastery complex was built around Taktsang Senge Samdup cave. According to legend, Guru Rinpoche flew to this location from Singye Dzong on the back of a tigress who was one of his consorts and he mediated in the cave for 3 years and 3 months and later emerged in eight incarnated forms and the place became holy. After the hike, we will proceed for lunch. After lunch, you may choose to take a traditional Bhutanese Hot Stone Bath (about 60 mins) – additional charges applies or return to the hotel and enjoy the complimentary sauna and steam facilities. End the evening with a dinner in the hotel.
Stay : Tashi Namgay Resort or Resort Thim-Dorji @ Paro Riverfront or similar category (4 star)
Meals : Breakfast / Lunch / Dinner
DAY 7 – Paro

Enjoy your breakfast or packed breakfast from the hotel restaurant. You will be greeted by your professional guide and be assisted to your departure transfer. We will send you to Paro International Airport for your flight out to next destination. Tashi Delek!