7D6N Tasmania Panoramic Round Island Tour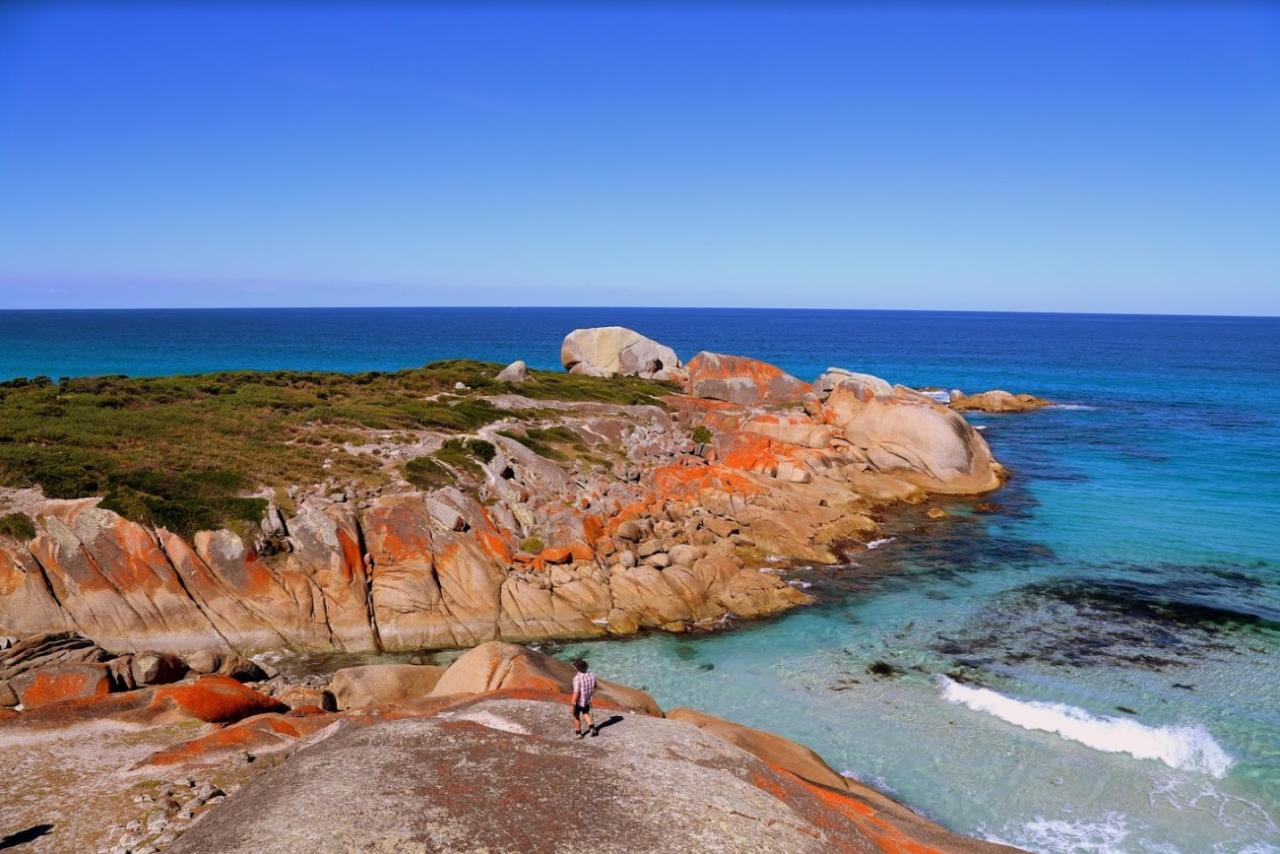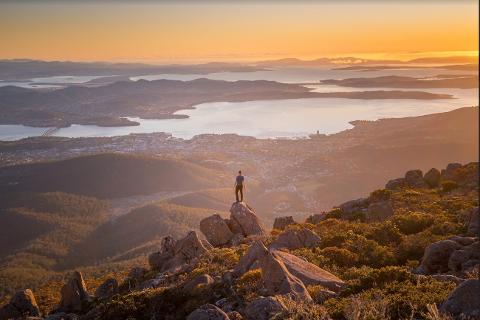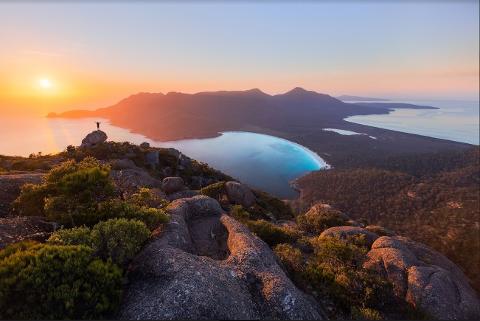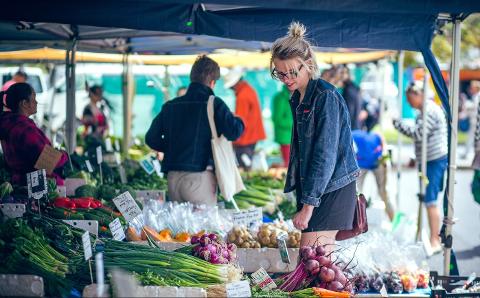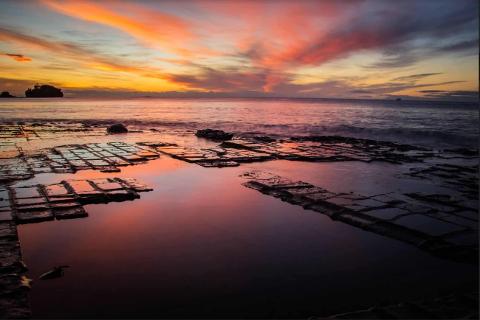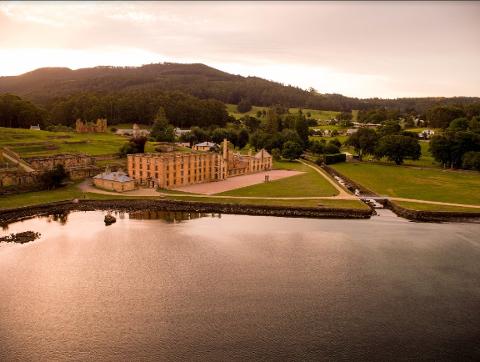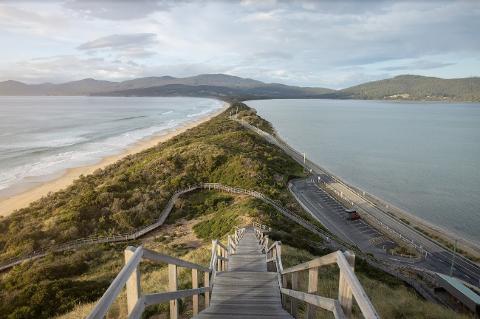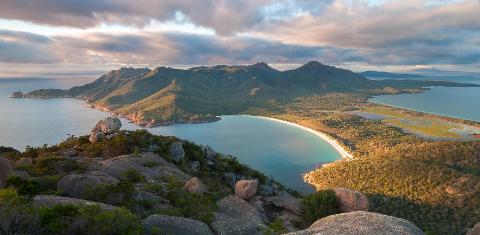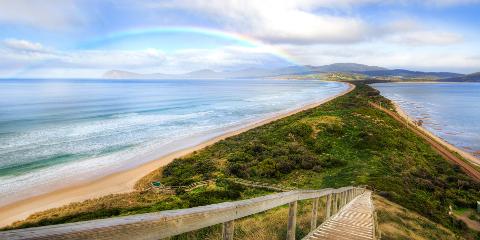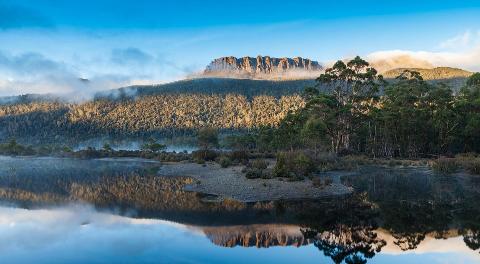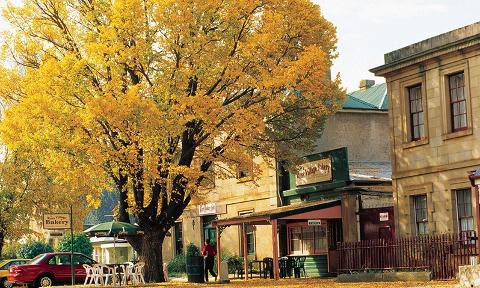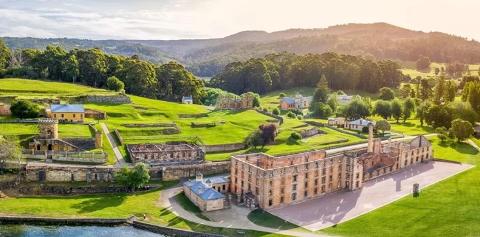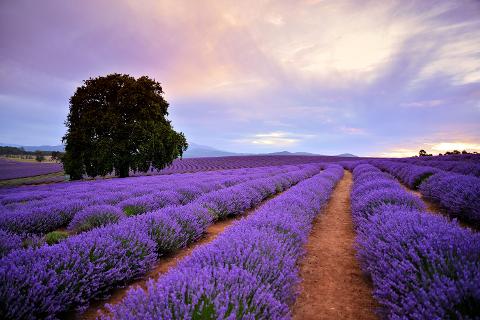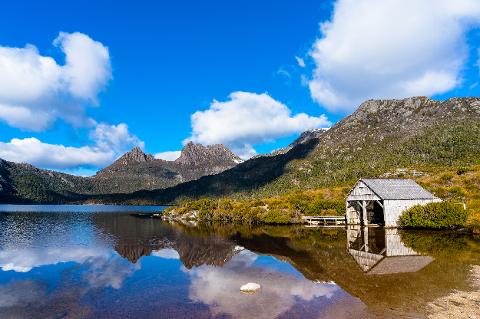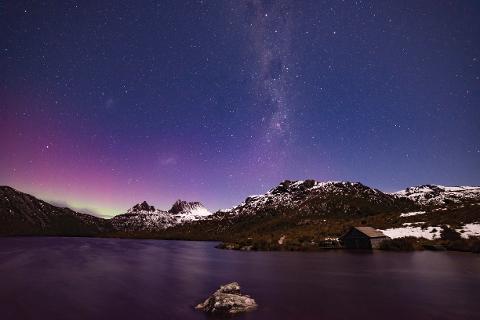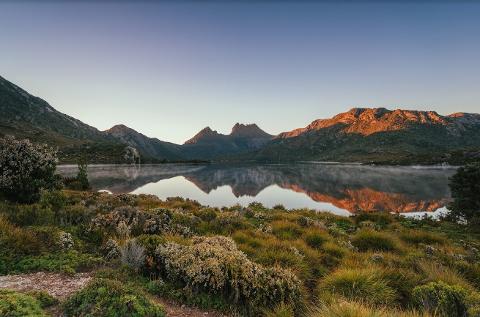 Duration: 6 Days (approx.)
Location: Hobart
Product code: 6NTASPRI
· Embark on an unforgettable 7-day round-island highlights tour in Tasmania
· Indulge in a luxurious stay at your choice of star-rated hotel accommodations
· Immerse yourself in the vibrant waterfront of
Hobart and enjoy the breathtaking views from Mount Wellington
· Experience the beauty of Bruny Island and indulge in nature's delights · Visit the UNESCO World Heritage-listed Port Arthur site
· Take a walk in the magnificent Mount Field National Park
· Visit one of the top ten beaches in the world - Wineglass Bay

· Experience the remote wilderness of
waterfalls in Cradle Mountain · Take a romantic walk through the sweeping fields of purple
Day 1: Hobart >
Salamanca Place > Cherry Picking* > Mt Wellington >
Richmond
Visit to Salamanca Market (held every SAT), delight
your senses with the sights, sounds and
flavours illuminating from the vast array of market stalls. Picking the famous Tasmanian cherries* (mid-DEC to mid-JAN only, at your own expense).
Next travel by Hobart's waterfront
to the summit of Mount Wellington, experience spectacular views
over Hobart and southern
Tasmania. Next, overview the oldest operating
brewery in Australia,
Cascade Brewing. Enjoy a
visit to Richmond, a picture-perfect town that tells the story of an early Australian colonial village. Take a stroll down the pretty
nineteenth century streets
and see the town's most photographed landmark, the Richmond Bridge. Don't miss the delicious Scallop Pie.
Day 2: Hobart >
Bruny Island
Catch the 20 minute ferry to
Bruny Island, and you'll soon be enjoying nature's sights, sounds, scents, tastes and textures.
Climb the stairs to the lookout above the Neck - a narrow, sandy
isthmus connecting north and south Bruny Island - to take in 360-degree
views over Adventure Bay. Stroll along
the white sands of Sandy Bay. Get into super-fresh oysters
at Get Shucked* (at your own expense),
producing the world's finest oysters in the pure water of Great Bay.
Day 3: Hobart >
Port Arthur Historic Site >
Tasman Peninsula
Visit the UNESCO World Heritage-listed Port Arthur historic site* (at your own expense), it was one of the earliest
convict settlements in Australia back in the
1800s. You'll need a ticket to
enter the historic
site, which includes
a walking tour and a harbour cruise.
One of the
distinguishing features of the Tasman Peninsula is its rugged, rocky
coastline. Tessellated Pavement is arguably the most famous.
Some other rock formations to see are Tasman Arch, Devil's Kitchen, and the Blow Hole.
Day 4: Hobart Botanical Gardens >
Mount Field National Park
Explore the splendid faces
of the huge Hobart Botanical Gardens, from exotica
gardens to Pete's famous Veggie Patch. Then you'll head west to magnificent Mount Field National Park, known as 'the park for all seasons'
. It is part of the Tasmanian Wilderness World Heritage Area and
home to some of the world's tallest eucalypt forests, as well as a unique array of alpine.
Take a walk through lush rainforest to the many-tiered cascade
of picturesque Russell Falls.
Day 5: Hobart >
Swansea >
Freycinet National Park >
Wineglass Bay
Take a break in a beachside town - Swansea before exploring the stunning beauty of Freycinet National Park. Walk as a group to the Wineglass Bay
Lookout (or sit down and
relax while admiring the beautiful
scenery), one of the Great Short Walks of Tasmania.
Once at the top be rewarded
with that world-famous breathtaking view of Wineglass Bay.
Day 6: Sheffield >
Cradle Mountain
Head along the Bass Highway. Meander through green pastures and the majestic Mt Roland, look at the amazing murals in Sheffield. Travel
deep into the pristine Tasmanian
forest, and experience a remote wilderness of waterfalls, glacial
lakes, rainforest and wildlife on this day
trip to breathtaking Cradle Mountain - Lake St Clair National Park. Inside
the UNESCO World Heritage-listed park, take a couple of easy walks through
the forest and admire views of the
craggy peak of Cradle Mountain
towering above the tranquil reflective waters of Dove Lake.
Day 7: Grindelwaid Swiss Village >
Cataract Gorge > Bridestowe Lavender Estate/Tamar Island Wetlands
Visit to Grindelwaid Swiss Village. It offers a unique sightseeing experience in Swiss style.
Continue to enjoy a nature walk around the Cataract Gorge. Spot wildlife
or take
a
ride
on
the
First
Basin
Chairlift*
(at your own expense), the longest single chairlift span in the world. Visit
Bridestowe
Lavende
r
Estate*
(
mid-DEC to mid-JAN only, at your own expense). Alternatively we might visit the Tamar Island Wetlands, a magnificent Tasmanian
landscape, abundant with
plant and animal life, and a haven for various
birds, mammals, reptiles, frogs, fish and invertebrates. If your flight departs
at Hobart, when we on the way back to Hobart, you will visit the small town
of Ross, where Hayao Miyazaki's "Kiki's Delivery Service"
was originally c
INCLUSIONS
Inclusion:
• 6
nights 4 or
4.5 star hotel accommodation (Launceston 4 star only), including breakfasts.
In Hobart
- 4 star hotel: Wrestpoint/ ibis Styles or similar,
4.5 star hotel : Wrestpoint/ Crowne Plaza Hotel or similar.
In Launceston - 4 star
hotel: Aspect Tamar Valley Resort or similar
• Transfers, Coach transportation & Chinese-speaking driver
guide
• Bruny Island ferry,
Wineglass Bay, Cradle
Mountain & Mount Field
tickets
---------------------------------------------------------------------------------------------------------------------------------------------

EXCLUSIONS
1: Flight/Insurance
2: Meals
3: Personal expenses
4: Tips $5pp
6: Anything not mentioned or "at your own expense" in the itinerary
7: Holiday surcharge: $50/person/night
Christmas&New year - 24 Dec - 03 Jan 2024
Chinese New year 2023
Hobart Wooden Boat Festival 10 - 13 Feb
Notes
1: Child rate is based on a child <12 using existing bedding, with breakfast only.
2: Solo traveller have to pay a single supplement
3: Flight must be Hobart in&out 9AM-6PM
4: Extension room night rate=Single supplement*pax number (2/3 pax)
5: Accommodation in Launceston can be 1 or 2 nights, normarlly 1 night.
The hotels listed are not guaranteed and are based on local ratings. We reserves the right to substitute other hotels than those listed above. Hotel locations can be within or outside itinerary cities and may not be centrally located. If a change becomes necessary for any reason, the hotel substituted will be of an equivalent standard.
We reserve the right to adjust the itinerary as it sees fit to ensure the smooth running of this tour. We act as an travel agent and assumes no responsibility for any loss or damage caused arising directly or indirectly from incidents or events over which we cannot control. It is highly recommended to purchase travel insurance.