6D5N Taiwan Mid-Southern + Miaoli Flower Mini Private Tour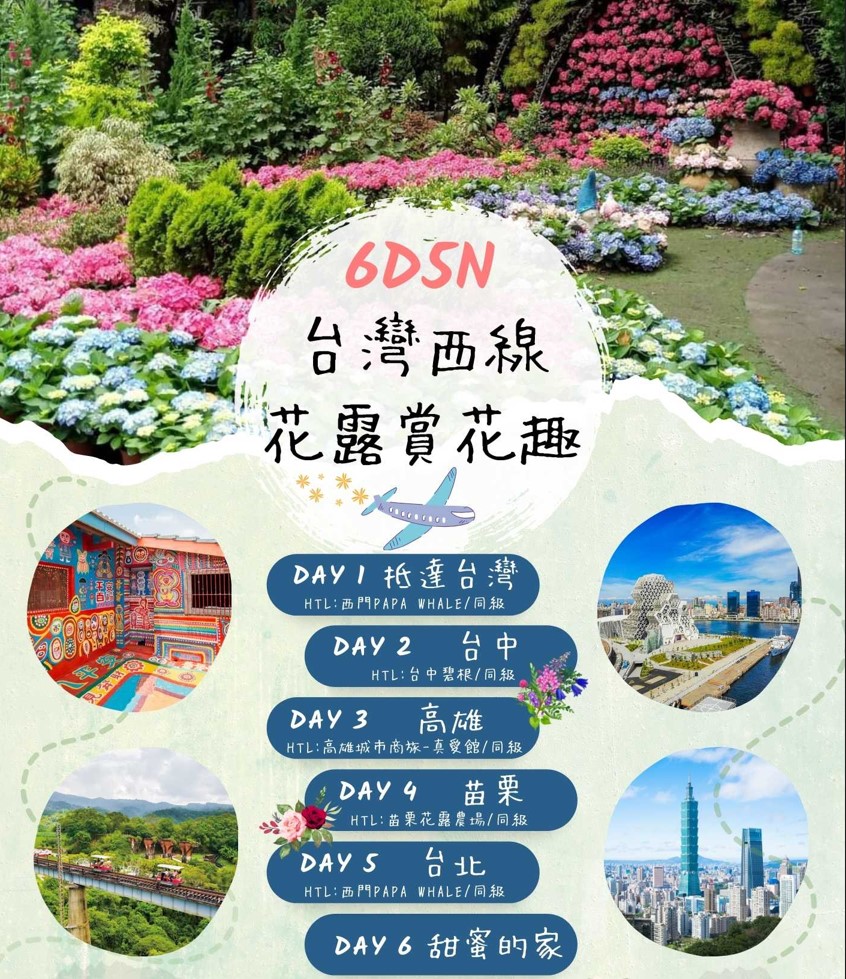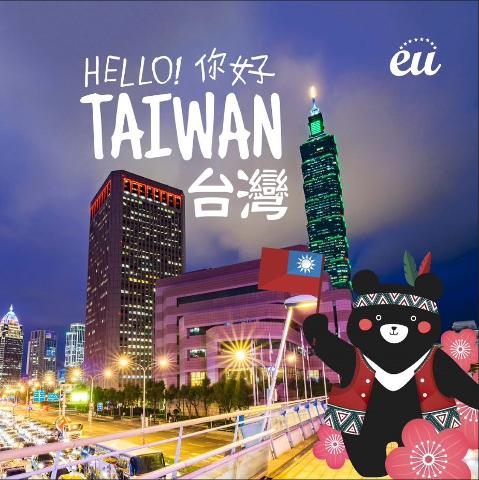 Duration: 5 Days (approx.)
Location: Taiwan
Product code: 5NTWMSMF
6 Days 5 Nights Mid-Southern + Miaoli Flower Mini - GV2

*** GV 4 only at $ 728 per person! Good Value!
Package Includes :
** 5 Nights accommodation as per itinerary
** Daily Breakfast
** 10 hrs car hire usage per day with mandarin speaking driver cum guide

** Round trip airport - hotel - airport transfer and transportation during touring
Excludes all the entrance & tipping

Peak date surcharge : Weekends stay / Public holiday stay hotel surcharge to be advised upon booking

English speaking driver guide is available at extra cost.

Note : Private Tour is max 7 pax in one vehicle.


------------------------------------------------------------------------------------------------------------------------------

Suggested Itinerary - ( Travel your way! )

Day 1 Sin - Taipei

桃園機場→ 台北酒店 (單趟機場接機)
TPE Papa Whale or similar
Day 2 ➯包車 Free & Easy

➯台中景點IG打卡必去推薦:Molecure
Pharmacy.Yanagawa waterway.Rainbow Village.Heynuts alley cafe.BACiTALi.Ju Kui Western-Style House.Fusion Space Shen Ji New Village.

➯台中必嚐美食推薦:拾覺.綠境Verde.老喬冰菓室.萬客什鍋.茶六燒肉堂.桂蘭麵.古猗園灌湯包.阿裕壽司.RARE 芮珥.第一名爌肉飯.玉堂春滷肉飯.
Taichung Beacon Hotel or similar
Day 3 ➯包車 Free & Easy

➯高雄經典景點必去推薦:Austin
Coffee.Jingyuan - Airport Café and Recreational Farm.SKM Park.Fishing port of Chaishan.Shoyoen Japanese Garden.KHH HOLO PARK.White lover189.Seaside Light Corridor.Umarekawatta coffee.Pu-lao Hot Spring.Tianliao Moon World.Tianliao Rock Temple.Maolin little great wall trail.Maolin Lumusu trail.Wei-Wu Mi-Mi
Street Art Village.

➯高雄必嚐美食推薦:七賢鴨肉飯.米糕城.老江紅茶牛奶. 李家圓仔冰.林宗興家開的鱔魚麵.鹽埕鴨肉意麵.正大麵線羹. 詠春堂-階夏.香味海產粥.冰塔 B-TOD.騰戶丼飯專賣.羣島Shakaislands.兔思糖法式甜點.遙遙相望.Symbiosis cafe 共生.大溝頂虱目魚米粉湯.
City Suites -Kaohsiung Chenai or similar
Day 4 ➯包車 Free & Easy

➯苗栗景點IG打卡必去推薦:Li-Yu-Tan
Reservoir.Miaoli Rail Bike.Zhuo Ye Cottage. Monet Garden.Chateau in the Air.Green Ark.Miaoli Nisshin Island.Tung Blossom scecet Trail.Sanwan Taxodium Distichum.Tong Luo Tea Factory.Habbit Valley.Sud Vista.Fuguei Museum Sanyi Branch

➯苗栗必嚐美食推薦:穎川美食館.新月梧桐.金榜麵館.賴新魁麵館 .老吳鐵馬臭豆腐.鐘鼎山林景觀咖啡廳.橘色三食山里廚房.在水一方.噢哈娜咖啡.大眾庭園客家小館
Miaoli Flower Home or similar
Day 5 ➯包車 Free & Easy

➯台北景點IG打卡必去推薦:Cama Coffee Roasters.Garden91.Yinhedong Waterfall.U-mkt Xinfu Market.Mountain Times Trail.Teapot Mountain.Jinguashih Geographic Park.Shitou Mountain.Jinshan Mysterious Coast.Laomei Green Reef.

➯台北必嚐美食推薦:阜杭豆漿.雙月食品社.圓環邊蚵仔煎.劉芋仔蛋黃芋餅.梁記雞肉飯.林東方牛肉麵.小王雞湯瓜仔肉.金峰滷肉飯.紅木屋休閒茶館.金華麵店.環記麻油雞.阿娥水餃.六必居潮州一品沙鍋粥.R9 Café.詹記麻辣火鍋.呂桑食堂.
TPE Papa Whale or similar
Day 6 Breakfast & Departure

桃園(或台北)酒店→ 桃園機場
Taoyuan Hotel (or Taipei Hotel)→ Taoyuan Airport
This tour takes you around Taiwan covering all the most beautiful and breathtaking spots of Taiwan.Experience the spectacular central mountain range, showing you the most impressive natural landscapes that Taiwan has to offer.

** Note : itinerary and sequence of visit is subject to change without prior notice some activities in the Theme Park are omitted due to Covid Safety Precaution