6D5N Taiwan Eastern +Taroko National Park Mini Private Tour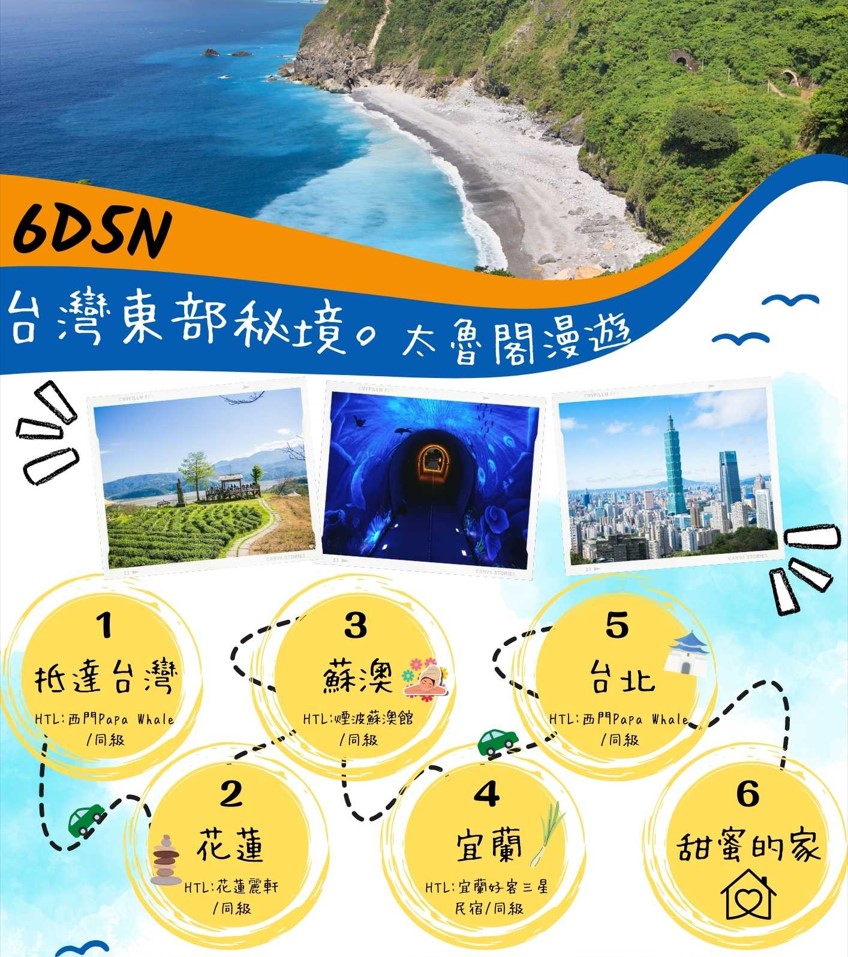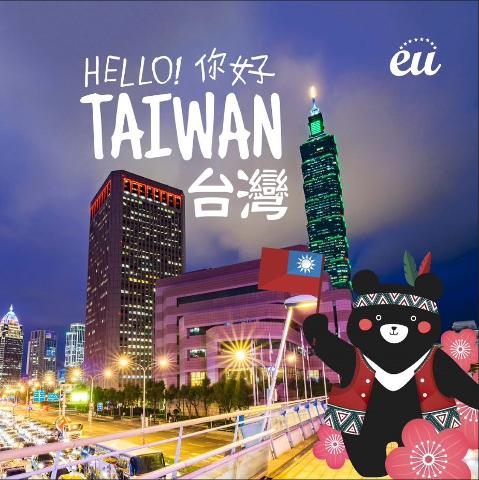 Duration: 5 Days (approx.)
Location: Taiwan
Product code: 5NTWETN
6 Days 5 Nights Taiwan Eastern +Taroko National Park Mini Private Tour - GV2

*** GV 4 only at $ 738 per person! Good Value!
Package Includes :
** 5 Nights accommodation as per itinerary
** Daily Breakfast
** 10 hrs car hire usage per day with mandarin speaking driver cum guide

** Round trip airport - hotel - airport transfer and transportation during touring
Excludes all the entrance & tipping

Peak date surcharge : Weekends stay / Public holiday stay hotel surcharge to be advised upon booking

English speaking driver guide is available at extra cost.

Note : Private Tour is max 7 pax in one vehicle.


------------------------------------------------------------------------------------------------------------------------------

Suggested Itinerary - ( Travel your way! )

Day 1 Sin - Taipei

桃園機場→ 台北酒店 (單趟機場接機)
TPE Papa Whale or similar
Day 2 ➯包車 Free & Easy
➯花蓮景點IG打卡必去推薦:Taiwan Cement DAKA.Qingshui Cliff.Taroko National Park.Mountain-Moon Bridge.Sakadang Trail.Baiyang Trail.Hualien Railway Culture Park.48 Highland Military Tunnel.Hualien Jade Valley Waterfall Trail.HAYAKU Cafe.Mountain Cafe. Chichi Highland.Yunshanshui Natural Ecological Village.

➯花蓮必嚐美食推薦:慕名私房料理.耕壽司.高大俠海鮮燒烤Bar.三隻無尾熊.楊媽媽米粉羹.戴記扁食.公正包子.廟口紅茶.曾記麻糬.一心泡泡冰.春龍福炒米粉. 第一家串燒.南華大陸麵店.銘師父餐廳.055龍蝦海鮮.小和山谷.慶豐麵店.西村的家.
Hualien Li Shiuan Hotel or similar
Day 3 ➯包車 Free & Easy
➯蘇澳景點IG打卡必去推薦:Taxi Museum.Sudong 3D Lightening Tunnel.Nanfang-au Harbor.Nanfang'ao Observation Deck.Doufu Cape.Chaoyang National Trail.Fenniaolin Cove.Qixingling Trail.Pirate's Cove Glass Beach.

➯蘇澳必嚐美食推薦:.阿芬鮮魚湯.蘇澳廟口米粉羹.新建利冰店.水都海鮮餐廳.參三文化廚房.酒橙榙.阿榮芋冰.地中海Casa.南澳安打烏醋麵.
Lakeshore Hotel -Su-ao or similar
Day 4 ➯包車 Free & Easy
➯宜蘭景點IG打卡必去推薦:Lanyang Shrimp Land.Star Deco Resort.Dongshan River Water Park.Healtdeva.Yilanzhangnice Farm.Yuanshan Otiramisu.Jaodaotian.

➯宜蘭必嚐美食推薦:阿灶伯當歸羊肉湯.三星蔥肉串.堂薯薯臭薯條.蘭陽香辣麵.張秀雄米苔目.阿添魚丸米粉.肉焿慶.A.maze兔子迷宮咖啡廳.滿山望海咖啡廳.龍座咖啡.
Yilan Haoke Sanshing B&B or similar
Day 5 ➯包車 Free & Easy
➯台北景點IG打卡必去推薦:Cama
Coffee Roasters.Garden91.Yinhedong Waterfall.U-mkt Xinfu Market.Mountain Times Trail.Teapot Mountain.Jinguashih Geographic Park.Shitou Mountain.Jinshan Mysterious Coast.Laomei Green Reef.

➯台北必嚐美食推薦:阜杭豆漿.雙月食品社.圓環邊蚵仔煎.劉芋仔蛋黃芋餅. 梁記雞肉飯.林東方牛肉麵.小王雞湯瓜仔肉.金峰滷肉飯.紅木屋休閒茶館.金華麵店.環記麻油雞.阿娥水餃.六必居潮州一品沙鍋粥.R9 Café.詹記麻辣火鍋.呂桑食堂.
TPE Papa Whale or similar
Day 6 Breakfast & Departure
桃園(或台北)酒店→ 桃園機場
Taoyuan Hotel (or Taipei Hotel)→ Taoyuan Airport
This tour takes you around Taiwan covering all the most beautiful and breathtaking spots of Taiwan.Experience the spectacular central mountain range, showing you the most impressive natural landscapes that Taiwan has to offer.

** Note : itinerary and sequence of visit is subject to change without prior notice some activities in the Theme Park are omitted due to Covid Safety Precaution