6D5N Taiwan Mid Southern + Qingjing Mini Private Tour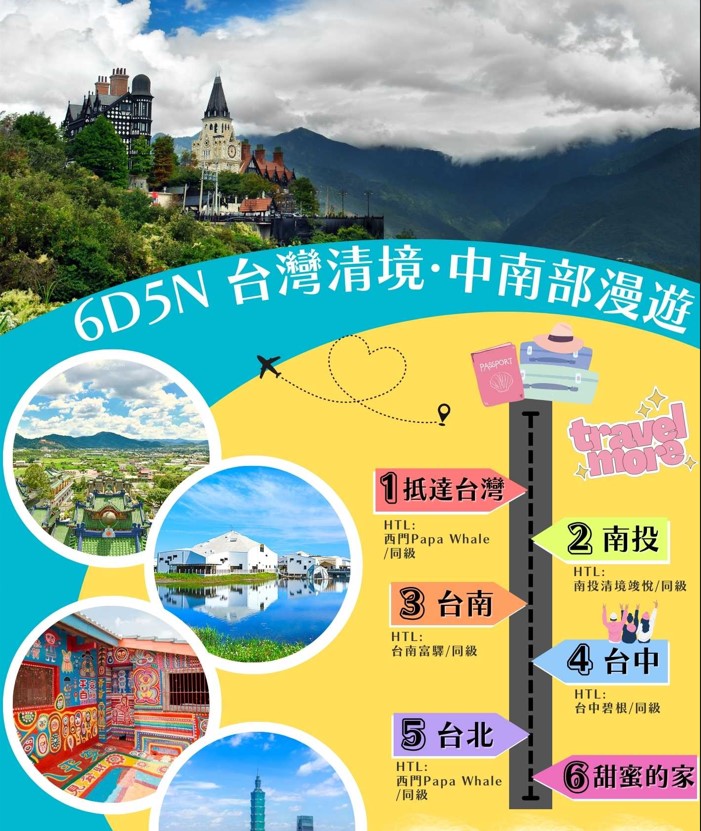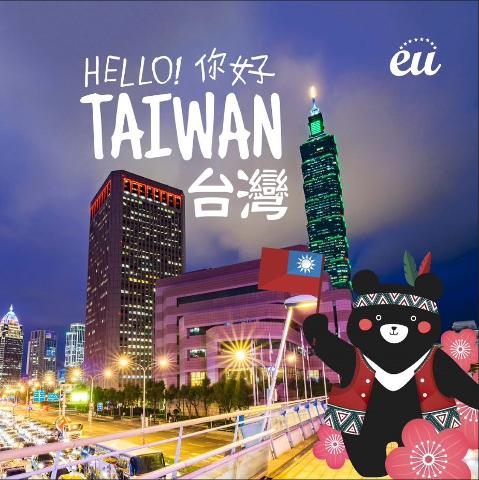 Duration: 5 Days (approx.)
Location: Taiwan
Product code: 5NTWMSQJ
6 Days 5 Nights Taiwan Mid Southern + Qingjing Mini Private Tour - GV2

*** GV 4 only at $ 728 per person! Good Value! ***
Package Includes :
** 5 Nights accommodation as per itinerary
** Daily Breakfast
** 10 hrs car hire usage per day with mandarin speaking driver cum guide

** Round trip airport - hotel - airport transfer and transportation during touring
Excludes all the entrance & tipping

Peak date surcharge : Weekends stay / Public holiday stay hotel surcharge to be advised upon booking

English speaking driver guide is available at extra cost.


Note : Private Tour is max 7 pax in one vehicle.

------------------------------------------------------------------------------------------------------------------------------

Suggested Itinerary - ( Travel your way! )

Day 1 Sin - Taipei

桃園機場→ 台北酒店 (單趟機場接機)
TPE Papa Whale or similar
Day 2 ➯包車 Free & Easy
➯南投景點IG打卡必去推薦:Nantou
Dimu Temple.Succulent plants Garden.Qingjing Farm.Green Green
Grassland.Nantou Cingjing sky Trail.Cona's Chocolate Castle.Jade Lake
Trail.Hehuanshan Dark Sky Park

➯南投必嚐美食推薦:魯媽媽雲南擺夷料理.雲香園過橋米線.好雞婆土雞城.

雞大王活蝦啤酒城.娜味先生.瑪格麗特紫屋餐廳.老英格蘭莊園下午茶.蒙塔妮甜點
Nantou Jun Yue Resort Cottage or similar
Day 3 ➯ 包車 Free & Easy

➯台南景點IG打卡必去推薦:The
Spring.Tainan Kappanomachi.Former Tainan Magistrate Residence.Tainan Snail
Lane.Beimen Crystal Church.Tainan Art Museum Building 2.Kuwabara Shop.Tainan
City Zuojhen Fossil Park .1661 Taiwan Warship Museum.

➯台南必嚐美食推薦:鷲嶺食肆.小豪州沙茶爐.阿松割包.金得春捲.炸雞洋行.

富盛號碗稞.阿伯炭烤黑輪甜不辣.矮仔成蝦仁飯.蜷尾家甘味處散步甜食.

阿美螃蟹粥.文章牛肉湯.東興蚵嗲.同記安平豆花.阿江鱔魚意麵.糯夫米糕.
FX Hotel Tainan or similar
Day 4 ➯包車 Free & Easy

➯台中景點IG打卡必去推薦:Molecure
Pharmacy.Yanagawa waterway.Rainbow Village.Heynuts alley cafe.BACiTALi.Ju Kui
Western-Style House.Fusion Space.

Shen Ji New Village.

➯台中必嚐美食推薦:拾覺.綠境Verde.老喬冰菓室.萬客什鍋.茶六燒肉堂.

桂蘭麵.古猗園灌湯包.阿裕壽司.RARE 芮珥.第一名爌肉飯.玉堂春滷肉飯.
Taichung Beacon Hotel or similar
Day 5 ➯包車 Free & Easy

➯台北景點IG打卡必去推薦:Cama
Coffee Roasters.Garden91.Yinhedong Waterfall.U-mkt Xinfu Market.Mountain
Times Trail.Teapot Mountain.Jinguashih Geographic Park.Shitou
Mountain.Jinshan Mysterious Coast.Laomei Green Reef.

➯台北必嚐美食推薦:阜杭豆漿.雙月食品社.圓環邊蚵仔煎.劉芋仔蛋黃芋餅.

梁記雞肉飯.林東方牛肉麵.小王雞湯瓜仔肉.金峰滷肉飯.紅木屋休閒茶館.金華麵店.

環記麻油雞.阿娥水餃.六必居潮州一品沙鍋粥.R9 Café.詹記麻辣火鍋.呂桑食堂.

TPE Papa Whale or similar
Day 6 Breakfast & Departure
桃園(或台北)酒店→ 桃園機場
Taoyuan Hotel (or Taipei Hotel)→ Taoyuan Airport
This tour takes you around Taiwan covering all the most beautiful and breathtaking spots of Taiwan.Experience the spectacular central mountain range, showing you the most impressive natural landscapes that Taiwan has to offer.

** Note : itinerary and sequence of visit is subject to change without prior notice some activities in the Theme Park are omitted due to Covid Safety Precaution