7D6N Discover Western Taiwan (Every Thur & Sun only)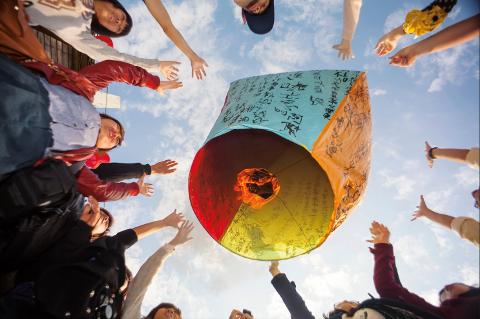 Duration: 6 Days (approx.)
Location: Taiwan
Product code: 6NTWDWTS
7 Days 6 Nights Discover Western Taiwan - SIC GV2
(Arrival Taipei on Thursday or Sunday ONLY )

Package Includes :
** 6 Nights accommodation as per itinerary
** 6 Breakfast, 4 Lunch, 2 Dinner during touring
** Sightseeing as per itinerary with mandarin speaking tour guide

** Round trip airport - hotel - airport transfer and transportation during touring
Excludes compulsory gratuity for guide and driver NTD 700 p/p

Peak date surcharge : 08 Sep , 05 Oct : $ 25 per person , 29 Dec : $ 135 per person , 31 Dec : $ 185 per person


Note : Min 2 pax travelling together. subject to min group size to definite departure

------------------------------------------------------------------------------------------------------------------------------

Suggested Itinerary - ( Sequence subject to change )

Day 1 Sin - Taipei

桃園機場→ 酒店
Taoyuan Airport→ Transfer to Hotel
4* 台北 Papa Whale
Day 2 Breakfast / Dinner

台北/ 和平島公園/ 九份山城/ 十分幸福天燈祈福(約4-5人一顆)/ 宜蘭/ 羅東林業文化園區/ 民宿
Taiepi/ Heping Island Park/ Chiufen/ Shihfen-Release Sky Lantern/ Yilan/ Luodong Forestry Culture Garden/ Yilan B&B
宜蘭好客三星 Yilan Haoke B&B
Day 3 Breakfast / Lunch

宜蘭/ Herbelle龍潭湖畔悠活園區/ 望龍埤落雨松/ 台中/ 海陸交界多樣生態~高美濕地/ 夜市
Yilan/ Herbelle Longtanhu area/ Wang Lung Pi/ Taichung/ Gaomei wetland/ Night Market
3* 台中西悠 Taichung CU
Day 4 Breakfast / Lunch

台中/ 南投/ 日月潭國家風景區-搭船遊湖/ 文武廟/ 山地特產中心/ 台灣品茗/ 高雄/ 棧貳庫/ 香蕉碼頭/ 夜市
Taichung/ Nantou/ Sun Moon Lake-incl. crusing/ Wen wu temple/ Aboriginal Product Shop/ Taiwanese tea center/ Kaohsiung/ KW2/ Banana Wharf/ Night Market
4* 高雄香富 KHH Golden Pacific
Day 5 Breakfast / Lunch / Dinner

高雄/ 珍珠展示館/ 佛陀紀念館(遇週二改佛光山)/ 田寮月世界/ 苗栗/ 花露農場-園區導覽.體驗足療SPA.精油主題館.賞花(1-12月蘭花.4-6月繡球花.7-10月暹羅鬱金香.11-4月波波草.11-2月聖誕紅)
Kaohsiung/ Pearl Center/ Fo Guang Shan Buddha Memorial Center (change to Fo Guang Shan on TUE)/ Tianliao Moon World/ Miaoli/ Flower Home-foot massage with essential oil
苗栗花露農場 Miaoli Flower Home

Day 6 Breakfast / Lunch

苗栗/ 竹南啤酒廠~打卡巨大台啤啤酒瓶/台北/ 維格伴手禮/ 忠烈祠/ 天祿藝術中心/ 台北101商圈/ 西門町
Miaoli/ Zhunan Brewery/ Taipei/ Vigor Kobo/ Martyrs' Shrine/ Handicraft Center/ Taipei 101 Shopping District/ Ximendin shopping area
4* 台北 Papa Whale
Day 7 Breakfast

桃園(或台北)酒店→ 桃園機場
Taoyuan Hotel (or Taipei Hotel)→ Taoyuan Airport
This tour takes you around Taiwan covering all the most beautiful and breathtaking spots of Taiwan.

Experience the spectacular central mountain range, showing you the most impressive natural landscapes that Taiwan has to offer.


** Note : itinerary and sequence of visit is subject to change without prior notice some activities in the Theme Park are omitted due to Covid Safety Precaution